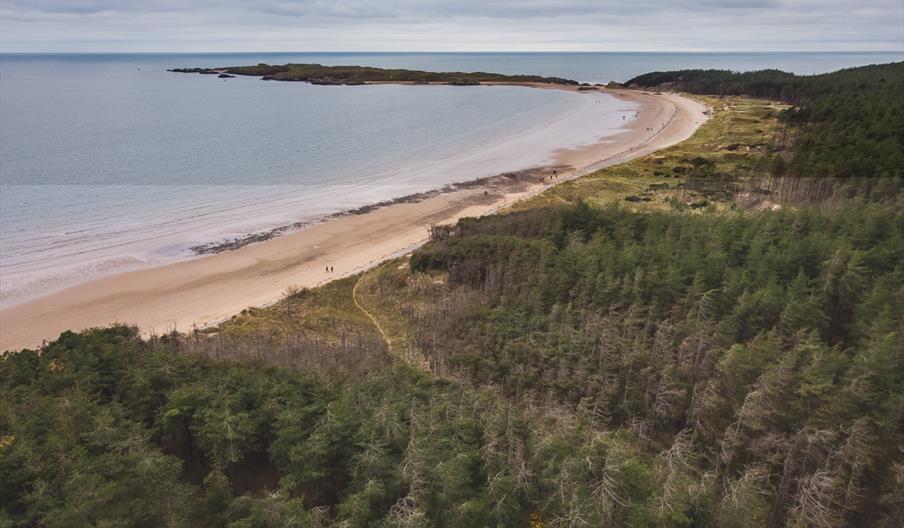 About
Newborough Forest is a great place to relax in. With waymarked trails to explore and wildlife to discover. It's also still a working forest, so areas may be closed for your safety when timber is being removed. The wood is a small forest of mainly corsican pine planted on Newborough Warren sand dunes.
You can also get into the forest from the Malltraeth car park on the A4080, or why not visit Llyn Parc Mawr and its bird-rich lake? Don't forget Llys Rhosyr, one of the courts of the Princes of Gwynedd, on the way back to Newborough Village just before the church.
Horseriding available Permit Only Access - Newborough Forest permit available from Traeth Rhosyr Riding Association Tel. No: 01248 430 377
The Newborough Beach car park gives access to forest trails, the beautiful Newborough beach and Ynys Llanddwyn.
You can find accessible toilets and six trails of varying length and type here:
Newborough Forest Walking Trails
Newborough Animal Puzzle Trail (1 mile, 1.5 kilometres)
Use the clues to spot the carved wooden animals in the forest.
Princes and Pines Heritage Trail (2.5 miles, 4 kilometres)
This circular route goes through the forest and out to the outskirts of Newborough village before returning to the shade and shelter of the woods. If you download the PlacesToGo smartphone app, you can listen to the local stories of hardship, ingenuity and success that have helped to shape the land and the people here over the centuries.
Saint, Sand and Sea Trail (5 miles, 7 kilometres)
The Saint, Sand and Sea Trail gives an insight into Newborough's unique geological and cultural features. Download the PlacesToGo smartphone app, and then listen to the audio files at the corresponding numbered posts. Please be aware Ynys Llanddwyn can be cut off in high tides and you should check tide times before starting this route.
Cycle Trail
Corsica Cycling Trail (6 miles, 10 kilometres).
The Corsica Cycling Trail is a waymarked circular route that is mainly on forest roads with views of the estuary. It goes through areas of mixed forest from mature pine trees to wet willow woods and passes by ponds, unusual rocks and wildflowers.
Running Trail
The running trail is waymarked and starts from Newborough Forest beach car park. Please note: Ynys Llanddwyn, which is part of this route, can be cut off in high tides and you should check tide times before starting it.
Commonwealth Run Trail (6.8 miles, 11 kilometres)
In 2011, the Commonwealth Mountain and Ultra Distance Running Championships came to North Wales and the 55km Ultra Distance trail race took place in Newborough. Today, you can run (or walk!) the official race route which has been waymarked from the beach car park. It goes through the peaceful forest, the vast dunes of The Warren and onto the island of Ynys Llanddwyn. The route includes stoned forest roads, narrow paths on sand with exposed tree roots, loose sand and shingle, uneven grassland and rocky terrain.
The Trim Trail starts from Newborough Forest beach car park.
Newborough Trim Trail (1.7 miles, 2.7 kilometres)
The Newborough Trim Trail is designed to encourage and improve your fitness. It was developed by Age Friendly Communities project in partnership with Natural Resources Wales. There are 11 exercise stations along the track, two of which are wheelchair accessible.
Horse riding
Horse riding in Newborough Forest is by permit only. Permits are available from the Newborough Forest Driving and Riding Association.

Llyn Parc Mawr
This is a lovely quiet picnic spot in sheltered woodland and an easily accessible lake rich in birdlife just 100 meters from the car park
OS Grid Ref: SH413669
Please note: Sometimes we need to close or divert trails for your safety whilst we undertake maintenance work or forest operations.
Occasionally we may have to close a site in extreme weather, such as high winds or snow and ice due to the risk of injury to visitors or staff.
Please always follow any instructions onsite and make sure you follow any temporary diversion signs in place.
Book Tickets
Guide Prices
There is a daily charge for car parking in the main Newborough car park.
Facilities
Accessibility
Disabled access
Disabled toilets
Children
Parking
Property Facilities
Dogs Accepted
Public toilets
Map & Directions
Road Directions
Follow the A55 to Anglesey cross over the Britannia Bridge then take the A4080 to the village of Newborough. Newborough Forest is half a mile south of the village of Newborough on Anglesey off the A4080.The OS grid ref is SH 413 669. From the centre of the village of Newborough, take the minor road opposite the Post Office down to Newborough. Forest beach car park, is signposted to Llanddwyn. Follow this road until you reach a barrier (There is a daily charge for car parking)) and then follow the road down to the beach car park.
You can also get into Newborough Forest from the Malltraeth car park on the A4080 between the villages of Newborough and Malltraeth.
Public Transport Directions
The nearest train stations are Llanfairpwll and Bangor.