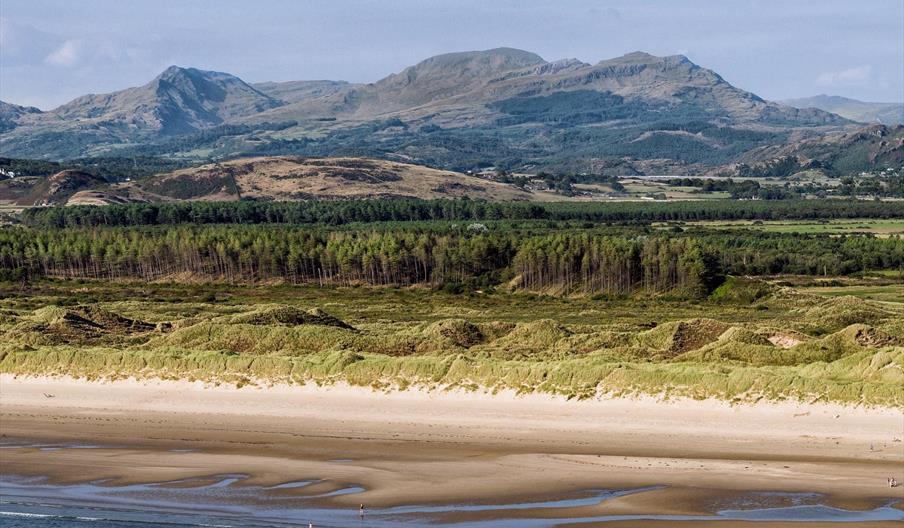 About
Morfa Harlech is one of two extensive sand dune systems which make up much of the southern Snowdonia coastline, extending from the Mawddach estuary in the south to Black Rock Sands in the north west.
Morfa Harlech sand dunes structures are arguably the most dynamic form of natural habitat in the world. The coastal walk through the reserve is a dramatic and spectacular sweep of untouched golden sand.
At first sight this might appear to be uninteresting as a National Nature Reserve - little but rolling sand dunes covered in marram grass. But it is a genuinely wild place, created by and changing with the forces of nature, not of humans. The dunes here are actively growing with a constant supply of sand being blown inland from the north of Barmouth Bay. The sand accumulates there, having been deposited by the rivers that had washed it down from the mountains of Snowdonia. The land here is rising, not only from accumulation of sand, but because the north west of Britain is gradually rising. When Harlech Castle was built in 1274 it was right on the seashore!
Dunes grow first with sand building up around some obstruction such as seaweed or debris on the shore. Once the embryo dune starts growing, specially adapted plants like marram grass can take hold. This grass is deep rooted and can grow rapidly to keep pace with sand that might smother it.
Further inland the dunes become more vegetated. Other grasses and a variety of plants adapted to the special conditions of vey dry soil and salty atmosphere grow on them.
Morfa Harlech is also a good place for birdwatching, especially in winter when you might see whooper swans and large flocks of wigeon and mallard. Hundreds of curlew and oystercatcher also congregate on the mudflats to the north.
Book Tickets
Facilities
Children
Parking
Property Facilities
Map & Directions
Road Directions
The reserve lies west of Harlech on the A496 road between Barmouth and Maentwrog and the turn for Morfa Harlech is almost opposite Harlech Castle. The pay-and-display car park, is at the end of the road and it is just a short walk along a path to the sand dunes and beach.
Public Transport Directions
The nearest mainline railway station is Harlech.