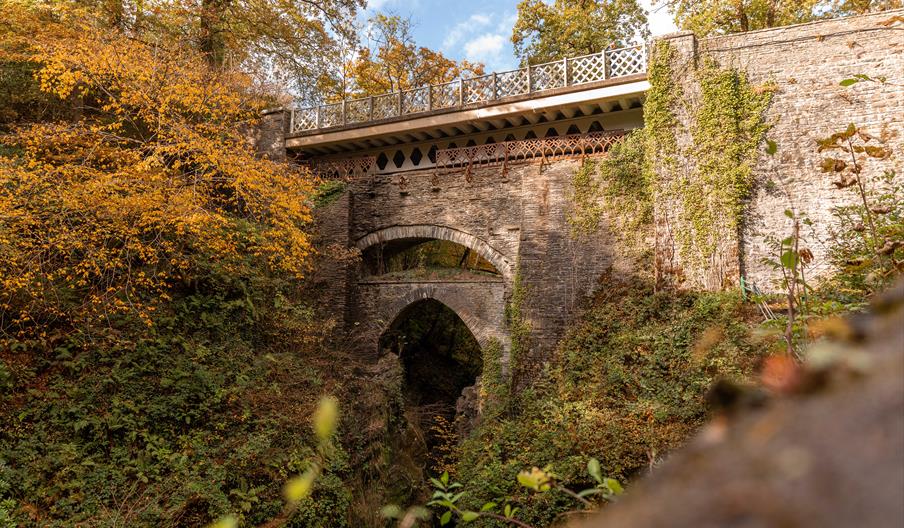 About
The village of Devil's Bridge, which translated in Welsh is Pontarfynach, means 'The bridge on the Mynach' and the area featured in the BBC detective series 'Hinterland /Y Gwyll'.
Devil's Bridge has been a tourist attraction for centuries. The celebrated English author George Borrow wrote Wild Wales (1854), which includes a lively, humorous account of his visit to Pontarfynach and a 17th century inn where Borrow reputedly stayed during his visit, is located nearby.
Devils Bridge is internationally famous for its waterfalls and narrow gauge Steam Railway. The village is situated at the head of the Rheidol Valley amidst the Pumlumon massif in the heart of the Cambrian Mountains. Nearby Pen Pumlumon Fawr, at 752 metres (2,467ft) is the highest peak in the Cambrian Mountains Range and the area is well-known for its forest and mountain walks.
The area was once part of the Hafod Estate owned by Thomas Johnes. Johnes built a small hunting lodge on the estate which, after several expansions and upgrades, is now operated as the Hafod Hotel.
Two rushing streams, the Mynach and Rheidol, descend dramatically into a gorge below the village where over time three different bridges have been built, one on top of the other. Visitors can enjoy several footpaths and walks to view the bridges and waterfalls. The bridge is at a point where the River Mynach drops 90 metres (300 ft) in 5 steps down a steep and narrow ravine before it meets the River Rheidol. The set of stone steps leading down to the lowest bridge at the waterfall are known as Jacob's Ladder.
Devil's Bridge has its own railway station on the historic narrow gauge Vale of Rheidol Railway, which opened between Aberystwyth and Devil's Bridge in 1902.
LOCAL LEGEND
According to the local legend, the original bridge was built by the Devil, as it was too difficult for mortals to build. The agreement stipulated that the Devil would build the bridge in return for the soul of the first life to cross the bridge.
The Devil built the bridge but was tricked by an old woman who threw bread onto the bridge. Her dog crossed the bridge for the bread, thus becoming the first life to cross the new bridge.
Facilities
Catering
Parking
Target Markets
Coach parties accepted - Coach parties can drop off at falls, then park elsewhere
Map & Directions
Road Directions
Devil's Bridge is located on the A4120 (Aberystwyth - Ponterwyd) road. It is in close proximity to the A44 (from the east) and the A487 coast road at Aberystwyth.
Public Transport Directions
The nearest mainline railway station is at Aberystwyth; however the Vale of Rheidol narrow gauge railway terminates in Devil's Bridge.
Accessible by Public Transport: Aberystwyth station is 12 miles away.