Family Short Break Llandrindod Area - Day 2
Day 2 - Exploring the Knighton area by train. The itinerary is from Monday to Friday based on National Rail timetables from 15 December 2019 to 16 May 2020. Subsequent train times until December will probably be similar but will not be confirmed until nearer the time.

Two National Trails can be accessed from Knighton; Glyndwr's Way and Offa's Dyke Path. The Offa's Dyke Centre includes Tourist Information, Exhibition Centre and local maps & routes.
Morning
Train to Knighton - we need to make an early start as there are not many trains on this scenic line! Take the 08.45 Shrewsbury train from Llandrindod station; this runs Monday to Friday and arrives at Knighton at 09.22.

The market town of Knighton, with a population of 3,300, stands on the route of Offa's Dyke. Up to 65 feet wide and 8 feet deep, the Dyke is named after the 8th Century King of Mercia who traditionally is believed to have ordered its construction; it roughly follows the current border between England and Wales.

A brief tour of Knighton - turn left out of the station and follow this road down to a T Junction (opposite the Knighton Hotel). For shops and eating places, turn right into Broad Street and up the hill towards the clock tower (built in 1872), past the George & Dragon Inn on left.

Left at the clock tower for the High Street. Knighton is rich in history with half-timbered houses and steep, winding streets known as the Narrows - you will see why when you get there! This area is home to more shops (many very individualistic!) and cafes/eating places.

Straight on at the clock tower into West Street for the Offa's Dyke Centre, the Knighton Tourist Information Centre and the Red Lion Hotel.

Llandrindod railway station is on the Heart of Wales Line that runs from Shrewsbury to Swansea.
Station Crescent, Llandrindod Wells, LD1 5BB
The Offa's Dyke Centre is the number one port of call for everything to do with Offa's Dyke, the National Trail and Welsh border region.
West Street, Knighton, Powys, LD7 1EN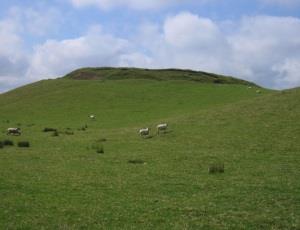 The 135 m/217km Trail is a long distance walk which can be enjoyed as a continuous journey, typically taking around nine days, or over a series of weekend or day trips.
Trail Start - Knighton, Powys, LD7 1EN
Lunch
Lunch in Knighton - selection of inns, restaurants and cafes in and around the town centre.
Afternoon
Return to Llandrindod Wells on the 14.58 train from Knighton station; this arrives at Llandrindod at 15.37. There is a later train but not until 19.18; arrival at Llandrindod is at 19.57
Knighton railway station is on the Heart of Wales Line that runs from Shrewsbury to Swansea.
Station Rd, Knighton, LD7 1DT
Evening
Evening meal in the Metropole Hotel
Other Itineraries
> Explore Mid Wales Days Out
> Heritage Railways
> Scenic Railway Day Trips
> Short Breaks by Train
> Short Breaks in Mid Wales