Heart of Wales Walking with Glyndwr
If you are looking for something different, that can offer quite country lanes and hill top views then try a section of Glyndwr's Way National Trail, walking through the spectacular landscape of Mid Wales.

Glyndwr's Way connects with four railway stations; Knighton, Llangynllo, Machynlleth and Welshpool, and this itinerary starts at the small station of Llangynllo which is two stops down the heart of Wales line from the start of Glyndwr's Way in the market town of Knighton.

The itinerary is from Monday to Friday based on National Rail timetables from 15 December 2019 to 16 May 2020. Subsequent train times until December will probably be similar but will not be confirmed until nearer the time.

Morning
Start by boarding the 10.09 train (Mondays to Fridays) at Shrewsbury and head south down the scenic Heart of Wales line. We recommend that you bring some food and drink for the walk as there are no amenities in the initial stages of the walk.

Once you have emerged from the Llyncoch tunnel, depart the train at the quiet village of Llangynllo which is nestled the hills of Mid-Wales; this is a request stop, so ask the conductor to stop the train for you! Incidentally this is the highest point of the Heart of Wales railway line (980 feet)!

Follow the lane alongside the railway line for 200 yards until you reach Glyndwr's Way. Continue on the trail until you reach the pretty village of Llangynllo. Begin ascending Baileys Hill which promises to give some wonderful countryside views!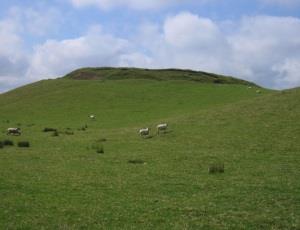 The 135 m/217km Trail is a long distance walk which can be enjoyed as a continuous journey, typically taking around nine days, or over a series of weekend or day trips.
Trail Start - Knighton, Powys, LD7 1EN
Shrewsbury railway station is the hub for many rail services to and from Wales.
Castle Foregate, Shrewsbury, SY1 2DQ
Llangynllo railway station is on the Heart of Wales Line which runs from Shrewsbury to Swansea and is located 1.5 miles north of the village.
Lunch
We suggest two ideas here! If you fancy a shorter walk and a pub lunch then why not head down the valley towards the village of Knucklas where you can find great food and drink in the Castle Inn.

The village of Knucklas or Cnwclas as it is known in Welsh has an impressive 13 span arched viaduct carrying the railway over it. Overlooking the village is a small castle which has open access to visitors. There is a train leaving at 17.28 to return back to Shrewsbury; Knucklas is a request stop, so indicate to the driver that you want the train to stop!
Knucklas railway station is on the Heart of Wales Line which runs from Shrewsbury to Swansea.
Glyndwr, Knucklas, LD7 1PN
Afternoon
If you decided that you wanted to keep walking then, the town of Knighton is only 2 miles further up Glyndwr's Way! Begin descending the hills as you enter the historic market town of Knighton.

There is plenty of quirky shops for you to explore and why not visit the Offa's Dyke Visitor Centre, so you can begin planning your next walk!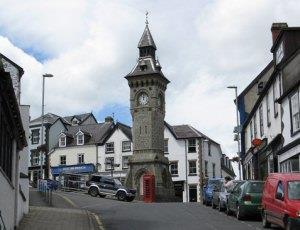 Knighton is a Mid Wales Marches town with a remarkable landscape and rich history. Located on the scenic Heart of Wales railway line, it makes a great base to explore the Offa's Dyke Path or Glyndwr's Way National Trails.
Knighton railway station is on the Heart of Wales Line that runs from Shrewsbury to Swansea.
Station Rd, Knighton, LD7 1DT
Evening
There is train which you can catch from the town's train station at 17.37, but why not stay for the evening and have a meal and a drink in one of the towns many establishments! We suggest a meal and drink at the Knighton Hotel or the Red Lion. Once you have recharged and refreshed, you can catch the 21.58 train back to Shrewsbury.
Other Itineraries
> Explore Mid Wales Days Out
> Heritage Railways
> Scenic Railway Day Trips
> Short Breaks by Train
> Short Breaks in Mid Wales