Mid Wales Scenic Rail & Steam Tour - Day 2:
Today we take the train from Welshpool to travel some 60 miles on the Cambrian Line to Aberystwyth (journey time an hour and a half) to visit the Vale of Rheidol Railway and take the narrow gauge steam train to Devil's Bridge.
Morning
Take the 09.52 train from Welshpool to Aberystwyth.

Plenty to see along the way for rail enthusiasts - Points of Interest Welshpool-Machynlleth and also Machynlleth-Aberystwyth.

We arrive at Machynlleth at 10.45..

The Corris Railway used to run south from the village and the slate quarries to terminate here at Machynlleth. Built originally in 1859 as a horse-hauled tram road, steam locomotives arrived in 1878 and passengers were carried from 1883 to 1930; the Railway closed in 1948. However, passenger services recommenced in 2002 on the northern section of the Railway out of Corris with regular steam-hauled services returning in 2005. No time to visit this Railway on this Tour - another visit to take this in?!

We leave Machynlleth at 10.50, stopping at Dovey (Dyfi) Junction, where the Cambrian Coast Line diverges - we will be back here tomorrow to take this route. We then follow the Dyfi estuary to the coast at Borth and complete our journey to Aberystwyth arriving at 11.21.

Welshpool/Y Trallwng railway station is on the Cambrian Line from Shrewsbury to Aberystwyth.
Welshpool Relief Rd, Welshpool, SY21 7AZ
Mid Wales Steam Railways Tour Journey Notes 2 - Welshpool to Machynlleth.
Welshpool Railway Station, Welshpool Relief Rd, Welshpool, SY21 7AZ
Mid Wales Steam Railways Tour Journey Notes 3 - Machynlleth to Aberystwyth.
Machynlleth Railway Station, Heol y Doll, Machynlleth, Powys, SY20 8BL
Lunch
The Vale of Rheidol train leaves here at 14.00 (this runs on Wednesdays from 25 March to 28 October 2020 - it will arrive in Aberystwyth at 13.30 if you want some photos) so time to walk through the town to the promenade (over the pedestrian crossing in front of the station, right and immediately left into Terrace Road; the Tourist Information Centre will be on your right just before you reach the sea), drop off the luggage, explore the town and have some lunch.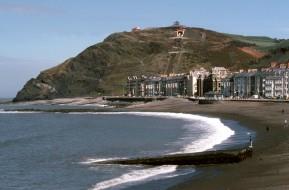 Viewed by many as the culture capital of Wales, it is home to the National Library of Wales, Aberystwyth University and the Aberystwyth Arts Centre.
Afternoon
There is a path from the far end of the station buildings to the Vale of Rheidol's booking office.

The Railway was the last steam railway owned by British Rail until it was privatised in 1989. It opened in 1902 to serve the lead mines, timber and passenger traffic of the Rheidol Valley. Despite the fact that the rails are only just under 2 feet apart, the three steam locomotives weigh over 25 tons each and are more than eight feet wide. The locomotives and carriages currently in use were built for the line by the Great Western Railway between 1923 and 1938.

We begin the 11.75 mile journey from Aberystwyth at 14.00 climbing over 600 feet to reach Devil's Bridge at 15.00; there is a cafe, toilets and a picnic area at the station. We have until 16.15 (16.00 at peak times) before the train leaves for Aberystwyth (alternatively, there is a later train at 17.45 at peak times) and Devil's Bridge itself and the waterfalls are not far away to walk.

If you return and find that the train's engine has disappeared - don't panic! It has just gone a short distance back down the line to replenish its water tanks - it will be back!

We will arrive back at 17.15 (17.00 or 18.45 peak times).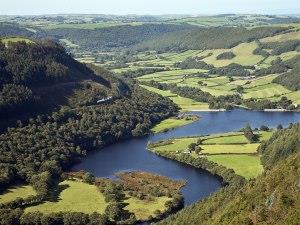 All aboard for an unforgettable 12 mile journey from Aberystwyth to Devil's Bridge travelling up 700ft through some of Wales' most spectacular scenery on a historic narrow-gauge steam railway.
Rail Route: Aberystwyth - Devil's Bridge
Park Avenue, Aberystwyth, Ceredigion, SY23 1PG
Evening
Stroll along the prom before having dinner at one of the many restaurants that Aberystwyth has to offer.
Overnight
There is a wide choice of places to stay in Aberystwyth - the local tourist information centre will be able to help book your accommodation.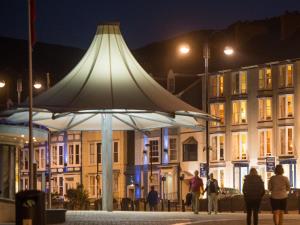 The Richmond boasts the prime seafront location on the main Aberystwyth Promenade overlooking Cardigan Bay and is at the heart of town. All room have ensuite facilities. The hotel has its own large private car park.
Guest Accommodation with 15 rooms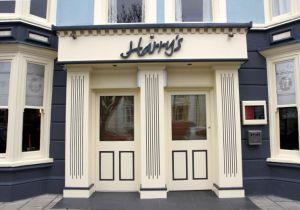 Harry's Hotel and Restaurant is ideally located in the heart of Aberystwyth, a busy University Town. Enjoy the delights of Harry's restaurant where Chefs use only the finest local ingredients.
Ceredigion's experienced Tourist Information Centre (TIC) staff will help you make the most of your visit to Ceredigion.
Terrace Road, Aberystwyth, Ceredigion, SY23 2AG
Other Itineraries
> Explore Mid Wales Days Out
> Heritage Railways
> Scenic Railway Day Trips
> Short Breaks by Train
> Short Breaks in Mid Wales