Explore the Vale of Rheidol on a Steam Train
Explore this hidden gem in the heart of the Cambrian Mountains and discover the Legends of the Devil's Bridge, Electricity in the Making, Free Flying Butterflies, all reached by the steam train that started using the line in 1902!

Vale of Rheidol train times and dates are based on 2020 timetables.

*** Scroll down to foot of page for a five day Heritage Railways Tour and a four day Rail & Steam Tour in Mid Wales.
Morning
Start your day in Aberystwyth on the narrow gauge Vale of Rheidol Railway and catch the 10.30 steam train. This runs every day from 21 March to 1 November 2020.

Opened in 1902, the railway has been delighting passengers young and old for over a century. From the comfort of your carriage watch the scenery of the Vale of Rheidol passing by. See the countryside change as you travel through wide open fields, woodland and rugged mountain scenery, the line twisting and turning as it clings to the hillside. Listen to the sound of a powerful steam locomotive working hard to climb 700ft (200m) in the 11¾ miles from Aberystwyth to Devil's Bridge.

You will arrive here at 11.30 and will have time to see the famous Devil's Bridge Waterfalls (see Lunch time alternative). These unique waterfalls have attracted many thousands of visitors since the 18th century, including William Wordsworth who wrote about the "Torrent at the Devil's Bridge".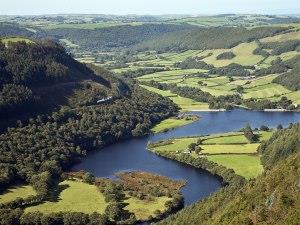 All aboard for an unforgettable 12 mile journey from Aberystwyth to Devil's Bridge travelling up 680ft through some of Wales' most spectacular scenery on a historic narrow-gauge steam railway.
Rail Route: Aberystwyth - Devil's Bridge
Park Avenue, Aberystwyth, Ceredigion, SY23 1PG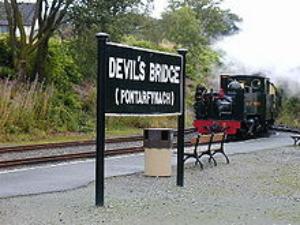 The village of Devil's Bridge, which translated in Welsh is Pontarfynach, means 'The bridge on the Mynach' is internationally famous for its waterfalls, and the Rheidol narrow gauge Steam Railway.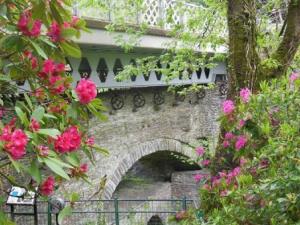 A circular walk that takes you deep into the wooded gorge with spectacular views of the 300ft Mynach Waterfalls. A challenging walk that takes at least 45minutes which includes many steep steps.
Devils Bridge, Aberystwyth, Ceredigion, SY23 3JW
Lunch
Opposite Devil's Bridge station, you will find Y Caban - a fully licensed, family run restaurant, bistro and gift shop or visit The Hafod Hotel (turn left from the station; this is also the way to the waterfalls).

Alternatively, take the 12.30 train down the line to Rheidol Falls (this is a request stop - tell the guard that you want to stop here!) and a walk through the woods to the Cwm Rheidol Power Station & Visitor Centre for lunch which is open Easter Bank Holiday Weekend and from 1st May to 30th September from 10.30 – 16.15. Free tours of the Power Station give a fascinating insight into both the history and the current use of the plant and it is only a 10 minute walk to the Visitor Centre for a restorative cuppa! Have a look around the display and a short film about the building. Next door are the promised butterflies! At the Magic of Life Butterfly House (open all year round from 10:00 - 17:00), Neil is a real enthusiast and will happily talk to you about the different species flying around your head!

A short stroll and you can pick up the 16.35 train at Aberffrwd (check - on certain dates, departure is at 16.20) puffing its way back to Aberystwyth.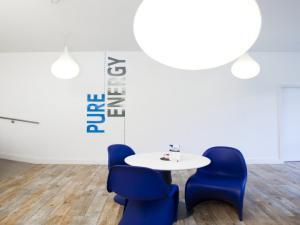 The Visitor Centre and Cafe includes an interactive display about renewable energy, local films and guided tours of the centre at set times. The cafe offers a choice of light lunches, sandwiches and snacks.
Speciality: Light lunches and snacks
Rheidol Visitor Centre and Power Station, Rheidol Hydro Power Station, Cwmrheidol, nr Aberystwyth, Ceredigion, SY23 3NF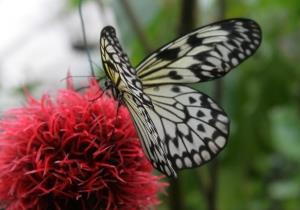 Come and see some of the largest and most colourful butterflies in the world! We exhibit species from all over the tropics. Our wildlife garden has many varieties of plants specifically for butterflies.
Cwmrheidol, Aberystwyth, Ceredigion, SY23 3NB
Afternoon
Your return train to Aberystwyth departs at 16.00 or 16.15 depending on the date. It actually arrives at Devil's Bridge at 15.00 so you will have plenty of time to talk to the driver and fireman and get close up and personal with one of the Railway's three steam locomotives; although narrow gauge, they weigh over 25 tons each and are more than eight feet wide! If there is no sign of a locomotive when you arrive, it will return shortly - it has just gone out of sight round a corner to take on water. The Railway's Two Hoots Cafe is located at Devil's Bridge if you need more refreshments as well.

Other Itineraries
> Explore Mid Wales Days Out
> Heritage Railways
> Scenic Railway Day Trips
> Short Breaks by Train
> Short Breaks in Mid Wales