A Day Out in Aberyswtyth
You'll get to experience some fantastic views of Aberystwyth from different locations within the town. Starting with Constitution Hill, you can take a short but steep walk up to the top of the hill or experience the Electric Cliff Railway. Here you can visit the Cliff Observatory or take the Coastal Path northwards.

Alternatively, on the opposite side of town, you could walk up Pen Dinas Hill Fort, returning via the lighthouse and along the Promenade. Ceredigion Museum is situated above the Tourist Information Centre in town, where you can get a glimpse of Ceredigion's heritage, culture and art.

In the afternoon you will visit The National Library of Wales which overlooks the town, before heading back down to the Castle and Memorial to watch the sunset. If you'd prefer to take in a show, Aberystwyth Arts Centre has a theatre and cinema to provide your evening entertainment.

*** Scroll down to the bottom of the page for more great days out in Mid Wales!
Morning
Head towards Constitution Hill and either walk (weather permitting) or take the Electric Cliff Railway (one of the longest in Britain), up to the top of "Consti" to see fantastic views of Aberystwyth and Cardigan Bay. There's a small charge to go into the Cliff Observatory; an original 360° Camera Obscura, with extensive views of over 1,000 square miles of coast and countryside. A café and toilets are located at the top of Consti.

Alternatively, Pen Dinas Hill Fort overlooks Tan Y Bwlch Beach and provides a different view of the town. On your return, you can walk via the lighthouse and along the Promenade back to the town centre.
Lunch
There are a many lovely places to eat in Aberystwyth, but for lunch with a seaview try Baravin or Gwesty Cymru.
Afternoon
Wales' largest library overlooks the town and houses large collections of books, maps, publications, journals, newspapers, photographs and paintings. There are permanent exhibitions such as the Nanteos Cup as well as featured exhibitions focussing on Welsh people, which are on display throughout the year. Take a stroll through the building and learn about Welsh history and heritage. By the entrance/exit you'll find toilets, a café and gift shop. Caffi Pen Dinas sells homemade cake to go with a tea/coffee for some afternoon refreshment.

Ceredigion Museum is housed in an Edwardian Theatre and provides a variety of displays showcasing Ceredigion's art, heritage and culture. It's certainly worth a visit whilst you're in town, and the Tourist Information Centre shares the building. The Coliseum Coffee House within the museum, provides refreshments.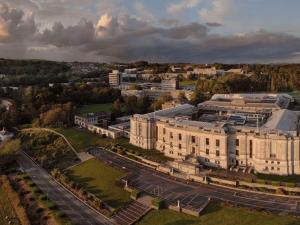 The National Library is one of the great libraries of the world. Since 1911 it's enjoyed the right to collect, free of charge, a copy of every printed work published in Britain and Ireland. Situated on Penglais Hill overlooking Aberystwyth.
Rhiw Penglais, Aberystwyth, Ceredigion, SY23 3BU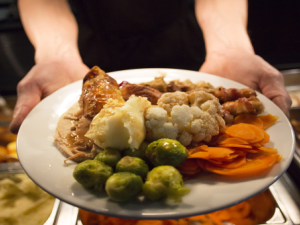 Pen Dinas Cafe offers a wide selection of sandwiches, paninis, salads, drinks and desserts, as well as hot meals, vegetarian dishes and home-made cakes. Open Monday to Saturday and situated on the ground floor within the National Library.
National Library of Wales, Rhiw Penglais, Aberystwyth, Ceredigion, SY23 3BU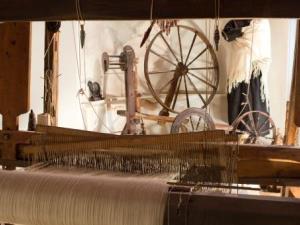 Ceredigion museum is a celebration of Welsh history and heritage, housed in a restored Edwardian theatre. It is host to lively events and temporary exhibitions throughout the year. Situated in the heart of Aberystwyth, near the promenade.
Coliseum, Terrace Road, Aberystwyth, Ceredigion, SY23 2AQ
Evening
Back in town you could head towards Abersytwyth Castle and have a walk around the ruins, visiting the War Memorial which is set among the castle's remains and overlooking the sea. Pysgoti is situated along the harbour and is a seafood restaurant conjuring up delicious locally caught seafood, which you may like to try for an evening meal as you end the day watching the sunset.

If you'd rather see a show or movie, Aberystwyth Arts Centre has a theatre, cinema, café and bar to entertain you for the evening.
The first true castle built at Aberystwyth was erected about a mile south of the current site by Gilbert de Clare circa 1110, and was variously called Castell Tan-y-castell, Aberrheidol Castle and Old Aberystwyth, among others.
Aberystwyth, Ceredigion, SY23 2AG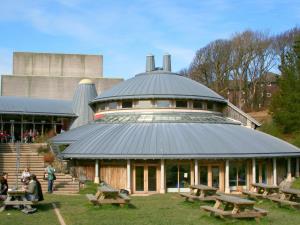 Award winning Aberystwyth Arts Centre is Wales' largest arts centre and recognised as a 'national flagship for the arts'. It has a wide-ranging programme across all art forms including drama, dance, music, visual arts film & new media.
Penglais, Aberystwyth, Ceredigion, SY23 3DE
Overnight
There are many accommodation providers in Aberystwyth offering quality accommodation.

Find a selection of places to stay and eat via http://www.showmewales.co.uk/destination/cardigan-bay-coast-wales.aspx
Other Itineraries
> Explore Mid Wales Days Out
> Heritage Railways
> Scenic Railway Day Trips
> Short Breaks by Train
> Short Breaks in Mid Wales