Cycling Offa's Dyke Country
Bring your own bike and hop aboard the Heart of Wales Railway starting at Shrewsbury or Knighton in the north, or from Swansea, Llandeilo or Llandovery in south Wales. You will find great country towns and villages to visit along the route in this quiet part of central Powys.

There are a number of national cycle routes throughout the area including NCN Route 43 (which passes through Llanwrtyd Wells), Route 825 (Radnor Ring passes through Knighton and Llandrindod Wells) and the NCN Route 8 through Builth Wells and Rhayader.

Please note that if bring your own bicycles on the train, due to limited capacity and to avoid disappointment we recommend you book before you travel to reserve your slot! Train times are for Mondays to Fridays based on timetables 19 May to 14 December 2019.

Morning
Take the train from either Swansea or Shrewsbury and head for either Knighton or Llanwrtyd Wells for different cycling locations and cycle hire.

Monday to Friday a train leaves Swansea at 09.34 arriving at Llanwrtyd Wells at 11.19 and Knighton at 12.37. From Shrewsbury, the 10.09 train will get you to Knighton at 10.59 and Llanwrtyd Wells at 12.28.

Wheely wonderful cycling, near Presteigne offers some fantastic self guided cycle tours and you can arrange to have your bicycles delivered to a local railway station of your choice if arranged beforehand.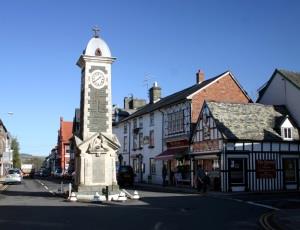 A circular 84 mile route following quiet country lanes, and crossing some of Mid-Wales' most spectacular scenery. For those with mountain-bike skills, there are exciting off-road alternatives.
Cycle Route: NCN Route 8 and Route 825
Moderate to Challenging
84
Rhaeadr Gwy | Rhayader, Powys, LD6 5BU
Lunch
Mid Wales towns offer a great selection of friendly inns, restaurants and cafe's. If you decide to explore Llandrindod Wells on route then make sure you allow time to visit the National Cycle Museum.
Afternoon
Llanwrtyd Wells is about mid-point on the Heart of Wales line from either Swansea or Knighton direction and offers cyclists a choice of both Road Rides and off-road mountain biking routes.

From Llanwrtyd Wells, there is a return train to Swansea at 16.23 or from Knighton to Shrewsbury at 17.37.
Evening
From Llanwrtyd Wells, there is a later train back to Swansea at 20.30 or from Knighton at 19.18. For Shrewsbury, the return train from Llanwrtyd Wells is at 20.31 and from Knighton at 21.58.
Other Itineraries
> Explore Mid Wales Days Out
> Heritage Railways
> Scenic Railway Day Trips
> Short Breaks by Train
> Short Breaks in Mid Wales