A Day Out on the Heart of Wales Line
Visit the smallest town in Britain but with the most eccentric range of activities on offer! The itinerary is from Monday to Friday based on National Rail timetables from 15 December 2019 to 16 May 2020. Subsequent train times until December will probably be similar but will not be confirmed until nearer the time.
Morning
Start by boarding the 10.09 Monday to Friday train from Shrewsbury or the 09.34 from Swansea heading towards Llanwrtyd Wells. Traditionally a "Spa" town because of its naturally spring close to the River Irfon it has now developed into the capital of the "Alternative Olympics"! Famous for the World Bog Snorkelling Championships and the Man v Horse race, the town hosts many other bizarre events!
Shrewsbury railway station is the hub for many rail services to and from Wales.
Castle Foregate, Shrewsbury, SY1 2DQ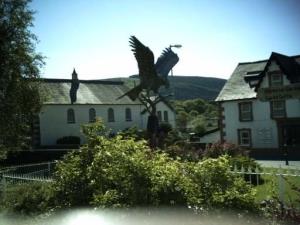 Llanwrtyd Wells is the smallest town in Britain. It is also one of the friendliest, having a long history of catering for the many visitors who, today, come to enjoy the unspoilt beauty of the surrounding Cambrian Mountains.
Lunch
Getting muddy in a bog not your cup of tea? Then maybe the Drovers Rest is. This popular restaurant is situated alongside the river. Why not pop in and see for yourself!

Afternoon
Interested in hiring a bike for the day? No problem. The Hub in Llanwrtyd Wells can provide you with bikes for the so you can try some mountain biking or cycling along some of the quiet country lanes which surround the town.

If you are feeling more adventurous, try cycling up to Sugar Loaf hill. This is a few miles from Llanwrtyd Wells but offers a panoramic view of the area. You may never have guessed but the term "Sugar Loaf" was the term used to describe old refining techniques or sugar which produced a dome shaped object. Sugar loaf mountains/hills are those that resemble a similar shape to this.

There are plenty of walks in and around Llanwrtyd too if you fancy a day in the countryside including the popular Town loop walk or the Drovers walk which is an annual challenge in which participants can take part in walks ranging from 10-25 miles and will receive a medal and badge upon completion. The walk also incorporates a visit to a local drovers inn which opens its doors for the special day!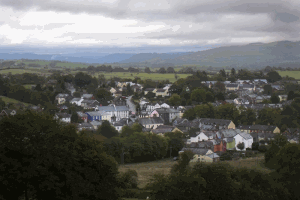 Town Walk - Loop Walk 1.5 miles, 45 minutes. Gates and no stiles; pet friendly.
Llanwrtyd Wells, Powys, LD5 4RW
Evening
How long you stay is entirely up to you! There are trains at 16.25 heading back to Swansea and at 16.20 to Shrewsbury. If you decide to stay in the town for an evening meal instead there are few great places where you can eat and make the most of your day!

How about the Lasswade Restaurant or the Neuadd Arms Restaurant - which is situated in town square. There are return trains from Llanwrtyd at 20.32 going to Swansea or 20.33 to Shrewsbury.

Llanwrtyd railway station is on the Heart of Wales Line that runs from Shrewsbury to Swansea.
Station Rd, Llanwrtyd Wells, LD5 4RW