Refine your search
Add to shortlist button.
Your Basket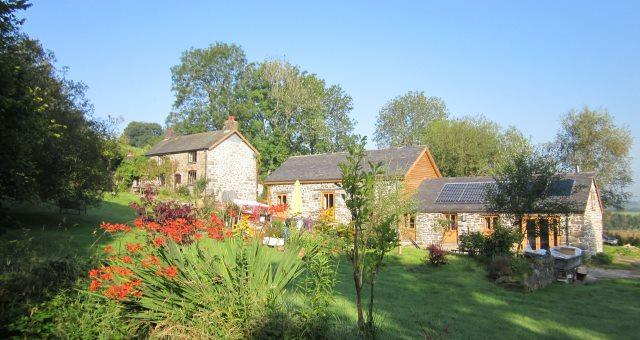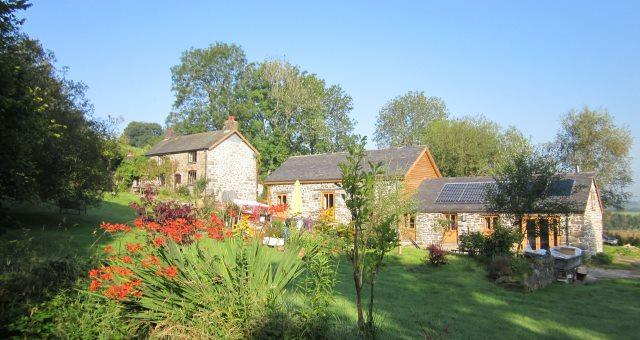 Self-catering with 4 units £133-£150 pupn sleeps 2-10
VISIT WALES 3 STAR SELF-CATERING, WALES GTBS SILVER, ACCESS DETAILS
Tyddyn y Pwll,
Carno,
Powys,
SY17 5JU
also at this location - Group Accommodation @ Tyddyn Retreat
Lower Barn general views
Search availability for Tyddyn Retreat and book online
Availability updated on 15 May 17 at 10:02
Checking for availability
Contact
01686 420725
Enquire now
www.walescottageandvenue.com
email a friend
Address
Tyddyn y Pwll,
Carno,
Powys,
SY17 5JU
also at this location - Group Accommodation @ Tyddyn Retreat
Details
Tyddyn Retreat is an inspiring eco venue and self catering holiday cottages, in the Cambrian Mountains, close to Snowdonia and the stunning coastline at Aberdovey. Two beautifully converted stone barns, and magical land, provide you with the perfect surroundings for relaxing 'at home', or venturing out to explore all the many, many places and activities that there are to see and do. Tyddyn Retreat love helping guests to find the perfect activities and days out for them - including their pets/ four-legged friends!

Tyddyn Retreat Self Catering offers our Historic Farmhouse for up to 10 people, our Upper Barn Cottage for up to 8, and our Lower Barn Cottage for up to 9. There is a mix of double and twin spaces + additional futons and foldaway beds as needed. Our peaceful Summerhouse Cabin is a double, with space for a foldaway bed if needed.

The Upper Barn and Lower Barn Cottages, converted stone barns, have been designed to combine the best of traditional style with contemporary comfort. Natural materials, such as exposed stone, lime plaster, oak and slate floors, blend with luxury fittings in the bathrooms, and wonderfully crafted furnishings, by talented local makers. The Lower Barn Cottage has been expressly prepared for anyone with disabilities.

Our Tractor Barn workshop space provides an inspiring environment for all manner of workshops, and provides a Private Cinema too. We have a wide range of DVDs to borrow. The projection facilities can also be used for training groups wishing to share information, or holiday guests sharing their adventures of the day.

The Mid Wales Retreat Venue & Holiday Cottages, includes two pretty meadows, a small ancient orchard, 'the island' moss-covered hill between two beautiful streams and tall oak trees in the deep cut "dingle". The stone circle has a campfire, and the Tipi is a fun space to enjoy. There is a historic drover's road, and numerous spaces for private reflection, or conversation with others. The gardens offer the constant surprise and delight of new flowers and colour, plus dozens and dozens of birds. A new orchard is expanding thanks to generous gifts of plum and apple trees, and the polytunnel will soon be providing plenty of space for growing our own organic vegetables and salads.

GREAT FOR PETS:
We love and welcome the four-legged friends of our guests. Just as human guests are greeted with chocolates, our doggie guests receive special biscuit treats - cats too!

We have a special Doggie Bag full of additional blankets, towels and throws etc, just in case a four-legged guest arrives without them.

Our 3 acres of land provides plenty of space for running, playing with balls etc. Tyddyn Retreat's Dylan the whippet loves to welcome pooch playmates too.... and is always good with whoever arrives.

We spend plenty of time helping guests to find the best places to walk and run with their dogs eg. Hafren Forest, Aberdovey and Ynys Las dunes....

Facilities include:Enclosed garden / Fenced area to walk dog
Dog bowls / blankets
Dogs allowed inside the property
Pooch bags provided

GREAT FOR KIDS:
Children of all ages love Tyddyn Retreat - as our Visitors Book shows!

Our Private Cinema with full sound system and plenty of DVDs is always a big hit! We have a wide variety of indoor and outdoor games too .... and plenty of space to run around and enjoy yourself.

Our Stone Circle and campfire are also a big hit with families - for telling stories, cooking marshmallows, having a picnic....or whatever you can imagine.

The tipi is a magical and popular space to spend time in too. We have a pond and streams and SO many places to explore. We always ask parents to make sure that the younger ones are safe.

Indoors.... young people love sleeping in the Crog Lofts (mezzanine areas), up oak steps - like a private den. Smaller ones can sleep on the ground floor... or in a cot if needed.

Our guests very often comment on how much they appreciate the time I spend in suggesting things to do and places to go, that would most suit their particular family. Be it walking, mountain biking, zip lining, exploring old mines, joining in crafts, eating yummy teas... or whatever.

Often our guests kindly say things like "you've thought of everything"... And we always ask our guests for their feedback before leaving - to see what else we might be able to help with another time.

Facilities Include:
Indoor Play Area
Outdoor Play Area
Highchair Provided
Cot Provided
Stairgates
Wifi
DVD Player
Board Games Provided / Children's Books
Child Friendly Activities Onsite/Nearby
Information provided about family attractions/things to do
Private Cinema with full sound system + lots of DVDs

ACCESSIBILITY:
Our Lower Barn Cottage has been especially designed for accessibility. Disabled Holiday Information have visited to advise us on any additional things we might do to help guests with a range of accessibility needs, and we are listed on their website.

We are proud to play our part in Disabled Access Day... and have been featured by them.

The Lower Barn Cottage stylish wet room has plenty of space for a wheelchair and all the needed facilities such as shower seat, grab rails etc. We have blocks to raise the bed if a hoist might need to be fitted. We have special crockery with distinctive coloured edges, for those needing visual help.

We have a number of ramps for easy access to the Lower Barn and to the Tractor Barn with Private Cinema. Parking is immediately outside the cottage. Suggestions of any additional features we might add, are always extremely welcome.

Facilities:
Wet Room
Ground Floor Bedroom
Ground Floor Bathroom
Elderly and Less Mobile
Part-time Wheelchair user
Independent Wheelchair User
Flat parking area or with ramp

GREAT FOR COUPLES:
Our guest couples can enjoy the simple privacy and coziness of a beautifully styled and converted stone barn cottage..... or take advantage of one of our Romantic Packages - which have been featured in magazines.

More than simply a romantic bedroom or suite... couples at Tyddyn Retreat have the space of a whole cottage - with delicious bedroom, luxury bathroom or wet room, a cozy wood burner in the studio/ living room area, with high beamed ceilings and super comfortable seating to relax in. Candles light the cottage in the evening. Our Private Cinema provides opportunities for romantic movie nights too.

Our Romantic Packages are built specifically for each couple - including massages and other treatments; flower arrangements & champagne to arrive to; dinner for two, cooked 'at home' by special caterers; tables booked at the best local restaurants, with private car services so that your can fully relax; specially created romantic itineraries, to waterfalls, stunning landscapes and more; private falconry experiences, including rings delivered by a hawk... and so much more.

One couple came for a 'surprise' weekend, when he proposed. He chose our Stone Circle, with the campfire burning, as the place to pop the question. She said YES !!

Our wedding bower outside, our Tractor Barn inside and the magical land all around, provide the perfect setting for wedding celebrations and anniversaries... as well as proposals.

For Babymoon times.... specialist pregnancy massages can be included. Honeymooners can enjoy our full Romantic Packages..... and the additional of special decorations for their cottage.

Those choosing our Farmhouse for their stay, will have the addition of a luxury steam shower and a Super Kingsize bed. All guests are welcomed with flowers and chocolates!

Facilities:
Romantic / Bridal Suite Bedrooms
Provide 'extras' upon request e.g. champagne, chocolates, flowers etc.
Spa Treatments
King Sized Bed
Anniversary / Occasion Packages
Babymoon Packages I.e. Pre baby break
Honeymoon Packages
We also have a Private Cinema with full sound system and plenty of DVDs to borrow magical land, with 'dingle' (deep cut streams & pond with tall oak trees above), stone circle with campfire Two meadows and plenty of outdoor seating, for private reflection or conversation with others. We love helping our guests to make the most of the area - finding the things to do and places to go that everyone would most like - including yummy eateries. Other Facilities: Holistic Therapies Yoga Classes / Breaks Health & Wellness Retreats
Buy souvenirs and tickets
Directions
Plan route using Google maps
Map reference: SN 939985 Lat: 52.57442 Long: -3.56671
By Car: Take the A483 to Newtown. As you enter the town, at the McDonald's traffic lights, turn right. Follow the road round, over the roundabout by a large church, and continue on the rural road through Aberhafesp and Llanwnog to the T junction. Turn right here onto the A470 and continue for around 4 miles to Carno. Drive through the village.

As you leave Carno, the road does a 'wiggle' over the railway: from this point, Tyddyn Retreat is exactly 1.2 miles on the left – a closed metal farm gate with a pink ribbon on it. Drive down the lane, through the next gate, under the railway line and on up to Tyddyn Retreat.

If your car is wider than a LandRover you may need to go over the railway, and we will let you know how. By the end of 2017 we shall have a bridge over the tracks !
Facilities
Children welcome
Radio
Television
Packed lunches provided
Ironing facilities
Private parking
Garden
Disabled facilities
Central heating
Laundry facilities
Microwave cooker
Linen provided
Sauna onsite
Golf available (onsite or nearby)
Working farm
Dogs/pets accepted by arrangement
WiFi or internet access
DVD player
CD player
Single sex groups welcomed
Hairdryer
High chairs available
Cots available
Real log/coal fires
Staff fluent in French
Barbecue
Drying facilities
Washing machine
We also have a Private Cinema with full sound system and plenty of DVDs to borrow magical land, with 'dingle' (deep cut streams & pond with tall oak trees above), stone circle with campfire Two meadows and plenty of outdoor seating, for private reflection or conversation with others. We love helping our guests to make the most of the area - finding the things to do and places to go that everyone would most like - including yummy eateries. Other Facilities: Holistic Therapies Yoga Classes / Breaks Health & Wellness Retreats
Self-Assessed Accessibility Details
Parking
Parking for Single unit properties:

Parking space provided

Within 50 metres approx. of entrance

Parking for Multiple unit properties:

Within 50 metres approx. of entrance

Designated parking space provided for guests with disabilities
Drop-off point for guests outside entrance

Surface of the car park and pathway leading to entrance:

Solid ie tarmac / concrete etc

Route from the parking area to the entrance:

Has ramp
Steps and no ramp
Access
Level access (no steps/thresholds) or access by ramp or lift to:

Toilet and bathroom
One or more bedrooms
Kitchen
Dining room
Toilet suitable for wheelchair users

Good contrast between the floor and walls
Bed/ Bathrooms
Bedroom furniture can be re-arranged if requested by guest
Bedrooms available with non-allergic bedding (ie non-feather pillows)
Bedrooms available with no fitted carpets
Bathrooms available with:

Bath with shower
Wet room

W.C. fitted with handrails available
Taps in bathroom with lever handles available
Bathrooms available that have been specially adapted for wheelchair user
Entrance
Steps to the main entrance:

2

Number of steps to entrance

Ramp to entrance
Entrance is well lit
Kitchen
Sink taps have lever handles
Seating available in kitchen